Meknes
Resort type:

City resort

Landscape:

Town, Mountains, Valley, Tropical Forest, Hills

What to do:

Ancient Monuments of Civilization, Historical & Architectural Monuments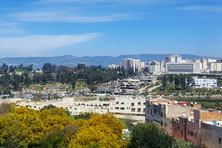 Meknes is an ancient city in Morocco. It is inscribed on the UNESCO World Heritage List. Meknes is situated in the north of the country 130 kilometres away from Rabat and 60 kilometres away from Fes. The city is built in the foothill of the Atlas Mountain. It is also the administrative centre of Meknes-Philalethes.
This city attracts those who prefer the excursion tourism and want to learn more about the Oriental history, culture ot architecture.
The city is divided into 2 parts. The Old City of Meknes is situated behind a defensive wall. All the main sights are concentrated here. In the southeast of Meknes, there is Verdun Square with Bearden Mosque and Gate of Bab Burden. In the central part of Meknes, you will find Great Mosque and Bou Inania Madrasah. The tourists can also visit Meknes Ethnographic Museum, which stores huge collections of ancient jewellery and china.
The New City or Hamriyah has a lot of shops, restaurants, cafes and offers various entertainments. The main shopping streets are Hanna street and Ansirap street.
The most popular cafes are Guerrouane and Amazir where you can try local wine and beer. On Bab El Mansour Market, you will always find fresh products. Go to Medina to buy souvenirs.
In Meknes, you can walk in the parks and the gardens.
Drive 31 kilometres from the city and you will find the largest in the country archaeological park, the ruins of Volubilis. 22 kilometres to the east from Meknes, there is a sacred place Moulay Idriss.