Melikhovo
Resort type:

Country resort

Landscape:

Broadleaf Forest, Plain

What to do:

Natural Parks & Reserves, Horse Riding, Historical & Architectural Monuments, Hiking, Thermal & Mineral Springs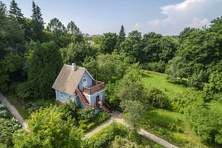 Melikhovo is a manor of Anton Pavlovitch Chekhov situated near Moscow, where he and his family lived in the period from 1892 to 1899. It is 80 kilometres away from Moscow in the suburbs of the city of Chekhovo.
Today the manor is Chekhov Melihovo Museum Preserve. The tourists spending their holidays in Moscow Oblast often visit the museum. The best way to get here is by car. You can also catch a suburban train from Moscow to Chekhovo and then change onto a bus.
On the territory of the manor, the tourists will see several buildings. In the manor itself, you will see how the writer, the public man and the doctor lived. The Museum contains over 20.000 exhibit items. Among the personal belongings of the writer, the Museum has some pictures by Chekhov's friends.
The tourists will find the sculptures of two badger-dogs Khina and Brom, who were loved by Chekhov. There is a tradition to rub the noses of the dogs. They say it will bring good luck. There is also a monument to Chekhov, which was erected in 1951.
In Melikhovo, there is a theatre that stages Chekhov's plays. The most popular is The Seagull. Anton Pavlovitch wrote this play in the outbuilding of the manor. There are also performances for children, for example, Kashtanka.
In Melikhovo, one can go walking or horseback riding. There is a stable. 4 kilometres away from the manor, you will find a sacred spring where you can take a swim.
There is a hotel and a small cafe on the territory of the manor.