Meemu Atoll
Resort type:

Beach resort

Landscape:

Atoll, Oceanfront, Tropical Forest

What to do:

Cycling, Culinary Tourism, Diving & Snorkelling, Boat Trips, Wellness Tourism, Yachting & Sailing, Fishing & Spearfishing, Surfing, Windsurfing & Kitesurfing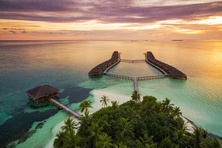 Meemu Atoll is an administrative unit of the Republic of Maldives. It occupies the territory of Meemu Atoll or Mulak Atoll situated in the Indian Ocean. Meemu Atoll consists of 9 inhabited and about 26 uninhabited islands. The capital city is Muli.
Meemu Atoll offers mainly the beach holidays. The tourists can stay in Medhufushi Island Resort or Chaaya Lagoon Hakuraa Huraa. An exciting diving in the caves, grottoes, and canyons is offered for the extreme tourists. Snorkelling is also a popular activity, the tourists can see morays, sailfish and small sharks. The tourists can also go on a cruise around the atoll, go yachting, sailing or biking. You can also try your hand at windsurfing, kiting and surfing.
The lovers of the ecological tourists can go fishing, explore the local ecological systems or escape everything and stay on one of the uninhabited island.
Clean air, good climate and favourable ecological situation attract the wellness tourists to the Atoll.
You will not find any important historical and architectural monuments on Meemu but for those who prefer the excursion tourism, there are boat tours or jeep tours to the islands when the tourists can get acquainted with the everyday life of the local people.
The event tourism is not developed here.
The restaurants in the hotels offer seafood delicacies. If you go to Male, do not miss a chance to visit its best restaurants, including Sala Thai, Symphony and Breakwater. You will also the main sights of the city such as Grand Friday Mosque and National Museum.
At night, some bars open their doors.