Mykonos
Resort type:

Beach resort

Landscape:

Mountains, Seacoast, Island, Cliffs

What to do:

Culinary Tourism, Diving & Snorkelling, Ancient Monuments of Civilization, Horse Riding, Nudist Beaches, Historical & Architectural Monuments, Hiking, Surfing, Windsurfing & Kitesurfing, Festivals & Carnivals, Shopping, Nightlife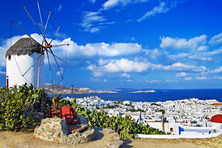 Mykonos is an ancient city in Greece. Mykonos was founded in the 2nd century B.C. as a citadel against the foreign enemies. After the fire in 1 100 B.C. only the ruins were left from the city. The ruins of Mykonos are situated 90 kilometres away from Athens.
Typically, archaeologists and those who appreciate the monuments of ancient civilizations come to Mykonos. The ruins are of interest to the people who know a lot about the ancient history. According to the Greek mythology, the city was founded by Perseus. The main sight of Mykonos is Lions Gate. They were built from four huge blocks and decorated with a bas-relief with two lionesses.
The Mycenaean Chamber Tombs attract many tourists. Inside the tomb, the tourists will see the ruins of residential houses and a funeral circle. Today only the foundation and the part of a bathroom where Agamemnon died is left from the residence of the Mycenaean kings. The tourists can go up the stairs leading from the Lions Gate to the place of the king's palace.
Not far from the defensive wall, there are dome tombs which are a recognized architectural pattern of those times. The most impressive is Treasury of Atreus. If you want to visit the tomb, you will have to walk along the 36-meter corridor to reach a round hall where the body of the king rested. At the entrance, the tourists will see a 9-meter broad stone which weighs 120 tons.
The National Archaeological Museum of Athens stores the artefacts found during the excavations. The treasure of the collection is a gold mask of Agamemnon.