Missouri
Resort type:

City resort

Landscape:

Mountains, Valley, Broadleaf Forest, Plain, Riverside, Coniferous Forest, Hills, Cliffs

What to do:

Aquaparks, Cycling, Golf, Natural Parks & Reserves, Casinos, Boat Trips, Historical & Architectural Monuments, Gliding & Paragliding, Amusement Parks, Yachting & Sailing, Hiking, Caves, Rafting & Kayaking, Fishing & Spearfishing, Shopping, Nightlife, Tennis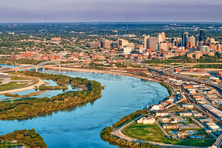 Missouri is an American State in the Midwestern United States. The Missouri River and the Mississippi River flow through the state. The capital city of the region is Jefferson City. Other large cities are Kansas City, Springfield, Saint Louis and Columbia.
Missouri will satisfy the preferences of everyone. The active tourists can conquer the Ozarkskie Mountains. The lovers of water activities can go on sea cruises, try sailing, fishing, tubing, rafting and yachting. Those who come here with the family will have a great time in aqua parks and amusement parks. In World Aquarium, you will watch the sea inhabitants. Get a rush of adrenaline and try paragliding with On the Marc Paragliding.
The main touristic sight of the region is Mark Twain Cave and Mark Twain House in Hannibal.
The hallmark of Saint Louis is Gateway Arch Saint Louis which is about 200 meters high. The capsule elevators will get the tourists to the viewing platform, opening a fantastic view. An interesting religious sight is Cathedral Basilica of Saint Louis. Learn more about the civil war in America and visit Missouri Civil War Museum.
The Missouri State Capitol is an architectural masterpiece of the capital city.
If you stay in Kansas City, do not miss a chance to see amazing fountains. Popular entertainments in the city are escape rooms, biking in the national parks and shopping. The tourists with families will have a great time in an entertaining centre Worlds of Fun Oceans.
In the city of Branson, you will find the most famous amusement park in Missouri Silver Dollar City.
The active tourists prefer Columbia. There are exciting hiking routes in Rock Bridge Memorial State Park.
A popular entertainment in Springfield is wagon tours in Fantastic Caverns.
To make your holidays even more interesting, you can play golf, tennis, squash, go to casinos, restaurants and night clubs. Malls and outlets open their doors for everyone.