Michigan
Resort type:

Country resort

Landscape:

Swamp, Broadleaf Forest, Lakes, Plain, Riverside, Coniferous Forest, Hills, Cliffs

What to do:

Cycling, Golf, Natural Parks & Reserves, Carting & ATVs, Horse Riding, Hunting, Historical & Architectural Monuments, Yachting & Sailing, Hiking, Fishing & Spearfishing, Surfing, Windsurfing & Kitesurfing, Tennis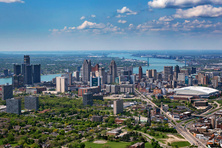 Michigan is an American state situated in the Great Lakes Region in the west of the United States of America. The administrative centre is Lansing. The largest city and the cultural centre of Michigan is Detroit.
Michigan attracts the tourists from every corner of the world with its amazing natural wealth, many historical and cultural sights. The city is situated on two picturesque peninsulas, the Lower Peninsula and the Upper Peninsula. They are linked by Mackinac Bridge. In Michigan, the tourists can see its legendary Great Lakes, 4 of which are situated on the territory of the state. They are the Erie lake, the Huron Lake, the Michigan Lake and the Superior Lake.
Those who prefer outdoors activities will surely be amazed at the number of the reserves in Michigan. The most popular are Isle Royale National Park, Pictured Rocks National Lakeshore, Huron National Forest and a fantastic Sleeping Bear Dunes National Lakeshore. The hallmark of the state is an amazingly beautiful Tahquamenon Fall.
The active tourists will spend a great time in Michigan because the state offers a wide range of activities. The tourists can go hiking and biking, they can ride segways, play golf, bowling or tennis or try horseback riding. The lovers of water activities can sunbathe on the beaches near the lakes, ride four-wheelers, aqua cycles, go sailing and surfing on the lake Michigan. Many tourists prefer fishing, hunting, canoeing and kayaking.
If you want to learn more about the culture and history of the city, you should visit Henri Ford Museum, Detroit Institute of Arts or Detroit Historical Museum.