Arugam Bay
Resort type:

Beach resort

Landscape:

Tropical Forest, Bay Coast

What to do:

Culinary Tourism, Diving & Snorkelling, Natural Parks & Reserves, Boat Trips, Historical & Architectural Monuments, Yachting & Sailing, Hiking, Fishing & Spearfishing, Surfing, Windsurfing & Kitesurfing, Shopping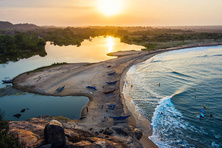 Arugam Bay is a bay in Sri Lanka, in the south-eastern part of the island. The Bay is situated 3 km from the town of Pottuvil, and 320 km from Colombo which is the island's administrative centre.
The Bay attracts those who prefer beach holidays and water sports. Arugam Bay Beach is widely known among kiteboarders and surfers. The waves are long and break abruptly, making it perfect for intermediate surfers. The waves are by an average 1.5-2 meters high. Pottuvil Point, Main Break and Peanut Farm are popular surfing spots. Advanced surfers direct their steps to Elephant Rock and Crocodile Rock. When on holidays, you can learn to catch a wave with Safa Surf School. One-day surfing tours are offered by Excellent Surf School.
The Bay is good for snorkelling. For diving, it's better to rent a boat and go to the Basses Reefs. The two reefs are situated south-east of the island. Divers and their travel companions will feast eyes with submarine canyons, ridges and caves, as well as with a variety of corals and fishes.
In addition to diving and surfing, tourists will be offered to go on a boat tour, or do kayaking, canoeing, spearfishing, sailing, yachting and catamaran tours.
The Bay is surrounded by deep jungles that have hiking trails. Vacationers will enjoy exciting tours of natural parks neighbouring Arugam Bay. 12 km from the Bay, there is an elephant sanctuary, the Lahugala National Park. 25 km from the resort, the Yala East National Park and Kumana Bird Reserve are located. The route leading to the Park lies near the ancient Kudumbigala Monastery and Crocodile Rock.
Between Pottuvil and Arugam Bay, you can see Muhudu Maha Viharaya, an extant temple complex built over 2000 years ago. The complex is home to a 3 m high Buddha statue and two bodhisattva statues.
For health benefits, visit Arugam Bay Ayurveda Treatment Centre. In Wave Flow Yoga, one can do yoga and meditate. If you're a shopper, go and buy high-quality leather bags from Carry Bags Shop.
Zephyr Restaurant & Bar offers a great variety of Asian dishes. Indian cuisine is represented in Tandoori Hut. European foods are served in Hideaway Resort Restaurant.