Montana
Resort type:

Country resort

Landscape:

Mountains, Lakes, Prairie, Plain, Riverside, Coniferous Forest, Cliffs

What to do:

Cycling, Natural Parks & Reserves, Horse Riding, Historical & Architectural Monuments, Hiking, Rafting & Kayaking, Fishing & Spearfishing, Festivals & Carnivals, Shopping, Nightlife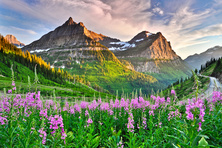 Montana is the fourth largest state in America situated in the northwest of the country. The capital city of Montana is Helena. The largest cities are Billings, Great Falls, Laurel and Anaconda. It borders North Dakota, South Dakota, Wyoming, Idaho and such Canadian provinces, as Alberta, British Columbia, Saskatchewan.
The western part of Montana is a part of the Rocky Mountains, in the eastern part, there are the Great Plains. The Continental Divide of the Americas passes through the state. It draws the line between the Pacific Ocean and the Atlantic Ocean. The highest peak in Montana is the Granite Peak. In Montana, you will find the head of the Missouri River formed by the junction of the Jefferson River, the Madison River and the Gallatin River.
Montana is a true paradise for the ecological tourists. They can go to Glacier National Park, Yellowstone National Park and Makoshika National Park. The latter is known for its cemetery of dinosaurs.
There is a great range of activities for the tourists in Montana such as rafting, climbing, horseback riding, fishing, hiking and biking.
For the lovers of the excursion tourism, special routes to the historical and architectural sights are developed. During the excursion, the tourists will visit Montana State Capitol and Museum of the Rockies.
All around the year, Montana holds different festivals attracting those who love to participate in the local events.
Large malls open their doors for everyone.
The best restaurants in Montana Harper & Madison, Lilac and Fieldhouse serve the best international dishes.
In Billings, Livingston, Missoula you will find a lot of bars, night clubs and casinos.