Mostar
Resort type:

City resort

Landscape:

Town, Mountains, Lakes, Riverside

What to do:

Cycling, Culinary Tourism, Diving & Snorkelling, Natural Parks & Reserves, Horse Riding, Historical & Architectural Monuments, Gliding & Paragliding, Yachting & Sailing, Rafting & Kayaking, Surfing, Windsurfing & Kitesurfing, Festivals & Carnivals, Shopping, Nightlife, Religious Pilgrimage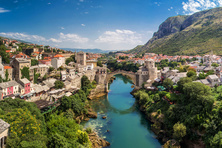 Mostar is a large city and an administrative centre of Mostar Community and Herzegovina-Neretva Canton situated on the shores of the Neretva River in Bosnia and Herzegovina. It is 130 kilometres away from Sarajevo and 80 kilometres away from Neum.
The lovers of the excursion tourism will want to go on a study tour to see such architectural and historical monuments as Koskin-Mehmed Pasha's Mosque, Kajtaz House, Kriva Cuprija. Stari Most attracts special attention as it is inscribed on the UNESCO World Heritage List. The tourists can also go on a bus tour to the capital city Sarajevo.
The village Medjugorje which is 26 kilometres away from the city is very popular with the pilgrims. This village became famous because of the fact that since the second half of the 20th century, the local citizens began to see the Blessed Virgin.
The extreme tourists can try their hand at rafting or kayaking on the Neretva River or paragliding. Biking, horseback riding and trekking.
From Mostar, you can travel to Neum and relax on the Adriatic coast. The beaches offer all the conditions for windsurfing, diving, kiting, snorkelling, yachting and sailing.
You will have a great shopping experience at Mepas Mall.
The ecological tourists will enjoy the Neretva river, the Kravice waterfall and Jablanicas lake. The tourists can also visit Blagaj tekija village or go to Sutjeska National Park.
Every year, Mostar holds a lot of festivals and celebrations attracting a lot of tourists. The most spectacular are Mostar Blues Festival and Street Arts Festival Mostar.
The foodies should not go past, such restaurants as Sadrvan, Hindin Han and Del Rio.
At night, the clubs Pink Panther, Daleka Obala and Drugi nacin open their doors.