Maine
Resort type:

Country resort

Landscape:

Mountains, Broadleaf Forest, Lakes, Oceanfront, Riverside, Coniferous Forest

What to do:

Aquaparks, Mountaineering, Culinary Tourism, Diving & Snorkelling, Natural Parks & Reserves, Wellness Tourism, Historical & Architectural Monuments, Gliding & Paragliding, Amusement Parks, Yachting & Sailing, Hiking, Rafting & Kayaking, Surfing, Windsurfing & Kitesurfing, Festivals & Carnivals, Nightlife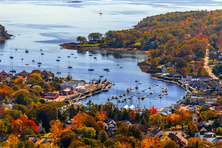 Maine is an American state in new England in the northeast of the country close to the Canadian border. It has access to the Atlantic Ocean. Maine borders New Hampshire. The total area of the state is over 91.500 square kilometres. The capital city is Augusta.
In the northern part of the state, there are the Appalachian Mountains, which attract the lovers of the extreme tourism. The tourists can go climbing, trekking, and paragliding. They can try their hand at rafting and kayaking on such rivers as Kennebec, Saint John, and Penobscot.
The lovers of beach holidays should go to the Atlantic coast, to such regions as Kennebunk, Ogunquit or Lincolnville. There is everything and anything the tourists may need for surfing, diving, windsurfing, yachting, kiting, snorkelling, and sailing.
A fantastic nature of Maine makes it an attractive region for the ecological tourism. You can see the Moosehead Lake and the Mount Kineo or take a walk in pine woods. The tours are arranged in Acadia National Park and Desert of Maine.
If it is city entertainments you are after, then you will have a fun time in Portland Funtown Splashtown or an amusement park Starflight Amusement Rides. The nightlife is vibrant in the clubs and bars in Augusta and Portland.
If you cannot imagine your holidays without excursions, you can go on a tour around Maine. You will see such historical and architectural monuments as Cape Neddick Nubble Lighthouse in York, Old Fort Western in Augusta, and Saints Peter and Paul Cathedral in Lewiston.
Clinics in the capital city attract the wellness tourists to the region.
Maine holds such festivals as Maine Lobster Festival and Atlantic Music Festival.
The foodies will enjoy their meals in Back Bay Grill, Flatbread Company, and Green Elephant.