Maryland
Resort type:

City resort

Landscape:

Mountains, Valley, Broadleaf Forest, Lakes, Oceanfront, Plain, Riverside, Coniferous Forest, Bay Coast

What to do:

Culinary Tourism, Downhill Skiing, Diving & Snorkelling, Natural Parks & Reserves, Boat Trips, Wellness Tourism, Historical & Architectural Monuments, Amusement Parks, Yachting & Sailing, Hiking, Surfing, Windsurfing & Kitesurfing, Festivals & Carnivals, Shopping, Nightlife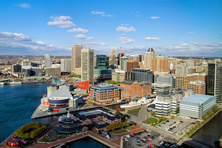 Maryland is a state with the total area of 32.133 square kilometres situated in the east of the United States of America. It neighbours Pennsylvania, Delaware, Virginia and West Virginia. Maryland has access to the Atlantic Ocean and the Chesapeake Bay. The capital city is Annapolis.
Those who prefer beach holidays prefer the sandy coast of Ocean City. Thanks to its amusements parks and playgrounds, this resort is considered to be the best for a family holiday. There is a great choice of activities for the extreme tourists such as surfing, kiting, windsurfing, snorkelling, diving, yachting, sailing or sea cruises. In the west part of the state, there are ski resorts.
Annapolis preserved the architecture and the atmosphere of the 19th century and it is very popular with those who prefer the excursion tourism. We recommend you visit Hammond-Harwood House, Maryland State House, Saint Anne's Church or William Paca Garden. You can go on a study tour to see such historical and architectural monuments as Antietam National Battlefield, Fell's Point, Fort Carroll.
The ecological tourists choose the suburbs of Maryland. They can walk in Brookside Gardens in Wheaton, take a tour to Blackwater National Wildlife Refuge in Cambridge and see Swallow Falls in Oakland.
The best places for shopping are in Baltimore where you will find such malls as Harborplace & The Gallery, Towson Town Center and Mondawmin.
The tourists can take part in one of the local festivals including Maryland Renaissance Festival and Maryland Film Festival.
The clinics in Baltimore and Annapolis help to develop the wellness tourism in the state.
The foodies should not go past, such restaurants in the capital city as Iron Rooster, Chick and Ruth's Delly, Jalapeno's. The best night clubs of the state are Paradox, Mosaic Nightclub and Lounge, Lux in Baltimore.