Nagano
Resort type:

Country resort

Landscape:

Town, Mountains, Broadleaf Forest, Lakes, Coniferous Forest

What to do:

Downhill Skiing, Mountain Trails, Natural Parks & Reserves, Wellness Tourism, Historical & Architectural Monuments, Hiking, Thermal & Mineral Springs, Shopping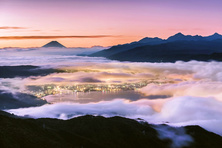 Nagano is an administrative centre of the Japanese Nagano Prefecture. It is situated in the central part of the Honshu Island.
Nagano is the main destination for the active tourists who can appreciate the natural beauty and active entertainments. In summer, the tourists can go hiking in the mountains and Alpine valleys, climb the Japanese Alps or choose difficult hiking routes. Tateyama Kurobe Alpine Route is one of the most famous and popular routes.
If you prefer relaxed holidays, you can go on a picnic ride a bike in the parks of Nagano. On the territory of Jigokudani Monkey park, there are hot springs (onsen) which attract the wellness tourists. A famous balneological centre is Nozawa Onsen. Snow Monkey Tour offers a one-day trip to the hot springs.
In winter, skiing centres open in Nagano. The best Japanese resort is Hakuba Ski Resort.
If you come to Nagano, you will see the oldest Buddhist sacred place. This is Zenkoji Temple. Thousands of pilgrims come to the Temple every year.
The tourists with children will have a great time in Chibikko Ninja Village. A sports complex Aqua Wing has a sauna and a pool. In Nagano Chausuyama Zoo, you can watch wild animals.
The tourists have a chance to visit Yamabe Winery, which produces famous Japanese wine brands.
Midori Nagano mall invites everyone to make purchases. You can buy unique souvenirs in Galerie Summer Solstice.
The foodies will surely enjoy the Asian cuisine in Okushamae Naosuke. Fujiya Gohonjin serves the Italian cuisine. You can have a good meal for attractive prices in Chobo Breakfast. In Kukuya Shunsui, you will find amazing desserts.