Nagarkot
Resort type:

Country resort

Landscape:

Town, Mountains, Coniferous Forest

What to do:

Cycling, Natural Parks & Reserves, Horse Riding, Historical & Architectural Monuments, Hiking, Safari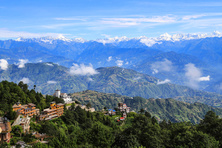 Nagarkot is one of the most beautiful highland regions in Nepal. It is situated to the east of the Kathmandu Valley 2.195 meters above the sea level. Nagarkot belongs to Bhaktapur District and is part of Bagmati Zone. It is about 32 kilometres away from Kathmandu, the capital city of Nepal.
Picturesque mountain landscapes of Nagarkot attract the endless number of tourists who want to enjoy nature, clean mountain air and see the snow caps of the Himalayas. In good weather go to the viewing platform to see the peaks of Langtang Lirung, Manaslu, Ganesh Himal and the highest peak in the world Everest.
The ecological tourists will surely want to visit Shivapuri Nagarjun National Park and Kathmandu valleys. These places have special touristic routes so that you could get acquainted with all the natural and historical sights.
Nagarkot offers ideal conditions for active holidays. The tourists can go trekking, hiking, biking and mountain biking, horseback riding or jeeping. If you prefer more relaxed holidays, Nagarkot is ideal for walks, yoga and meditation.
The lovers of ancient religious sights will surely never regret they came to Nagarkot. They will find the oldest Nepalese sacred place. This is Changu Narayan temple complex built in the 3d century. A two-story temple dedicated to the Vishnu can boast of a fantastic architectural style. Not far from Changu Narayan, there are two interesting museums. They are the Ethnographic Museum and a private Ghangu Museum. The latter has a huge collection of old coins, instruments, art objects and architectural findings.
Due to a convenient location, you can take a trip to an old trading town Sanka and a medieval town Bhaktapur from Nagarkot.