Nagasaki
Resort type:

City resort

Landscape:

Town, Mountains, Seacoast, Riverside

What to do:

Cycling, Golf, Mountain Trails, Natural Parks & Reserves, Boat Trips, Historical & Architectural Monuments, Hiking, Shopping, SPA, Nightlife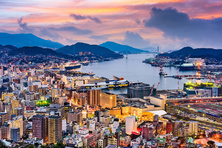 Nagasaki is an administrative centre of Nagasaki Prefecture in Japan. It is situated on the west of Kyushu Island. The Nakashima River passes through the city.
Nagasaki experienced a nuclear attack right after Hiroshima. The Nagasaki Atomic Bomb Museum is devoted to those events in the history of the city. The tourists will see the expositions reflecting the consequences of nuclear weapons used against the peaceful population, see the archive documents and photographs.
The national heritage of Japan is the oldest working Christian Oura Church. Do not miss a chance to see such Buddhist temple complexes built in the 18th century as Sofukuji Temple and Kofukudzi temple. Megane Bridge is another significant sight of the city. It was built in the 18th century. If you want to learn more about the history and culture of the city, you should go to Nagasaki Museum of History and Culture.
All the tourists who come to the city want to go on an excursion to an abandoned island Hashima which is 15 kilometres away from Nagasaki.
The suburbs of the city attract the active people. They can climb the Inasa Mountain, go biking or walking in Glover Garden. If you prefer the beach holidays, you will have a great time on Takahama Beach. Gunkanjima Cruise offers sea cruises. The ecological tourists should not miss a chance to visit Ikeshima Coal Mine Course. Play golf in Nameshi Golf Course.
In Nagasaki Penguin Aquarium, you can watch the penguins. If you come here with children, you should definitely visit an amusement park Agiruno Oka. Anahata Healing Salon offers spa treatments.
You can go shopping at the malls and in the city markets. In Amu Plaza Nagasaki and Mirai Nagasaki Coco Walk, you will find a great range of Asian and European brands. In these malls, there are also cinemas, restaurants, bowling and a skate rink.
The Asian cuisine is served in Osakaya Hamamachiten. Garcon Ken offers the best dishes inspired by the French cuisine. If you do not want to stay in your hotel room at night, Orb nightclub opens its doors for you.