Asprovalta
Resort type:

Beach resort

Landscape:

Town, Mountains, Lakes, Bay Coast, Flora of the Mediterranean

What to do:

Diving & Snorkelling, Natural Parks & Reserves, Wellness Tourism, Yachting & Sailing, Hiking, Fishing & Spearfishing, Surfing, Windsurfing & Kitesurfing, Thermal & Mineral Springs, Festivals & Carnivals, SPA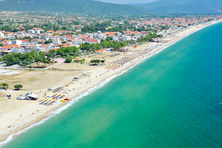 Asprovalta is a Greek sea resort in the Thessaloniki nomos of the Macedonia Region on the shore of the Strymonian Gulf. It is situated in the northern part of the country 576 kilometres away from Athens.
A clean coast covered with fine sand and surrounded by lush vegetation makes the city one of the most popular resorts on the north of Greece. Warm waters of the Gulf attract families with children. The active tourists can go fishing in the sea, snorkelling, sailing, and yachting. Extreme tourists can try windsurfing, diving, and kiting.
The ecological tourists will like the untouched nature in the country and recreation areas. The tours to the Kerkini Lake national park and the Olympus National Park are arranged for the tourists. Anyone can go hiking in the local woods and parks.
In Asprovalta itself, there are no historical and architectural monuments, but if you want you can take a trip across the Thessaloniki nomos and visit the Thessaloniki Archaeological Museum, White Tower, Saint Dimitrious Catacomb и Vlatodon Monastery.
The tourists can participate in the Aurora Festival and such public holidays as Ginaykratiya and Midsummer.
Asprovalta can also be a destination for a well-being tourism. On the Loutra Lagada resort, there are thermal springs Lagadas. You can have a spa treatment or a relaxing massage in large hotels.
There are many small shops and souvenir shops in Asprovalta. If you want a big scale shopping, go to the malls in Thessaloniki, for example, the Mediterranean Cosmos and the One Salonica Outlet Mall.
The restaurants Antonis, Votsalakia, and Papen offer traditional Greek dishes and seafood delicacies.
At night you can go to a bar or a disco.