Nakhon Ratchasima
Resort type:

City resort

Landscape:

Town, Mountains, Riverside, Tropical Forest

What to do:

Natural Parks & Reserves, Historical & Architectural Monuments, Hiking, Shopping, Zoos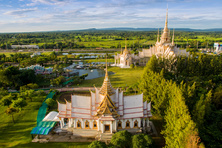 Nakhon Ratchasima is a city situated in the province with the same name in the northeast of Thailand. The resort is situated on the tributary of the Mun River in the southwest part of Khorat plateau.
The tourists who come to the city will have a chance to get themselves acquainted with its history and architecture. For example, they can visit Khmer Ruins in Phimai Historical Park. During an excursion tour, you will visit such temples as Prasat Muang Tum, Prasat Pueai Noi, Wat Burapharam and Prasat Hin Khao Phanom Rung. The tourists are always happy to go to Ban Tha Sawang silk weaving village. It is famous for its weaving factory built in an old style. In Maha Viravong national museum you will see old items and religious objects.
Nakhon Ratchasima is a great destination for the ecological tourism. They can visit such national parks as Sai Ngam, Prang Sida and Khaoyai.
The tourists with children should not go past Nakhon Ratchasima Zoo and Thongsomboon Club amusement park.
You will have a great shopping experience at Klang Villa mall. In Pak Chong floating market, you will find souvenirs and various collectibles.
Such restaurants as Amphawa Restaurant Korat, Vino di Zanotti and Kai Yang Nai Muang serve the popular dishes of the Thai cuisine.
There are no night clubs or casinos in the city, but on Sundays Korat Horse Racing Club opens its doors for those who want to try their luck.