Nam Cat Tien
Resort type:

Country resort

Landscape:

Jungle, Riverside, Tropical Forest

What to do:

Ancient Monuments of Civilization, Natural Parks & Reserves, Hiking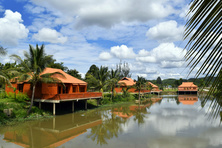 Nam Cat Tien is a national park situated 150 kilometres away from Ho Chi Minh on the territory of the southern Vietnamese provinces. Its park zone passes through Dong Nai, Lam Dong and Binh Phuoc. The Dong Nai River flows through the park. Nam Cat Tien is an International biosphere zone of the UNESCO. The park has a diverse landscape.
In Nam Cat Tien, the tourists will enjoy the virgin nature and see animals in their natural habitat. On the territory of the park, grow over 1.600 plants, of which 133 are the various species of orchids. The local flora was seriously damaged during the Vietnamese war when thousand tons of herbicides were thrown around. The tourists will have a chance to see such rare animals as Javan rhinoceroses and Siamese crocodiles.
Several ethnic tribes live in Nam Cat Tien. They are Stieng, Ta Lai and Ma. Anyone can visit their settlements. These tribes have a century-old history and preserved their culture and traditions. In these settlements, the tourists will find architectural monuments of ancient civilizations under UNESCO protection.
In the park, there are souvenir shops where you can buy souvenirs reminding you of your journey to Nam Cat Tien.