Namhae
Resort type:

Country resort

Landscape:

Mountains, Island, Strait

What to do:

Culinary Tourism, Diving & Snorkelling, Natural Parks & Reserves, Wellness Tourism, Yachting & Sailing, Hiking, Fishing & Spearfishing, Surfing, Windsurfing & Kitesurfing, Festivals & Carnivals, Shopping, SPA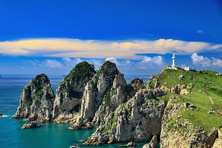 Namhae is a county with the total area of 357 square kilometres in South Gyeongsang province. It occupies around 70 islands in the Korea Strait in South Korea. The inhabited islands are the Namhae Island, the Changseon Island, the Hodo Island, the Nodo Island and the Jodo Island.
The lovers of the beach holidays should go to Sangju Beach. This sandy beach is protected against the winds by the woods and the Geumsan mountain. The shallow waters are ideal for families with children. There is a wide choice of activities for the extreme tourists. They have a chance to try their hand at kiting and windsurfing, snorkelling, diving, sailing, yachting and water skiing.
Picturesque sea landscapes, woods and mountain in the county attract the ecological tourists. In Namhae, they can go fishing, try their hand at rice growing in Tareni village and walk along the coast of the Korea Straight.
The tours at the Hallyeohaesang National Park are arranged for the tourists. There are about 25 species of animals and 115 species of birds. Namhae Pyeonbaek Recreational Forest is also very popular with the tourists.
If it is the excursion tourism you are after, then you will have a chance to see such local historical and architectural monument as Boriam Temple. We also recommend you visitit such museums as Bomulsum Manulnara Junsikwan, Yi Sun-sin Yeongsanggwan and Baram Heunjeok Museum of Art.
The event tourism is well-developed in the county thanks to national holidays. The most popular are Independence Movement Day, Buddha's Birthday and Gangneung Dano Festival.
The tourists will have a great shopping experience at such malls as Flat Woosangga, Hanaro Mart and Taihe Shopping. There is a modern wellness centre on site of Hilton Namhae Golf and Spa Resort. There you can have spa treatments and a massage.
The foodies will surely enjoy the Korean cuisine in Haenyeo Hwetjip and Oori Sikdang.