Nan
Resort type:

City resort

Landscape:

Town, Riverside, Tropical Forest

What to do:

Natural Parks & Reserves, Wellness Tourism, Historical & Architectural Monuments, Gliding & Paragliding, Hiking, Rafting & Kayaking, Festivals & Carnivals, SPA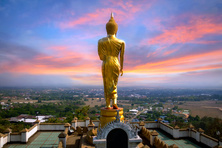 Nan is a municipality and an administrative centre of Nan Province in Thailand situated on the coast of the Nan River in the north of the country close to the Laos border. It is 660 kilometres away from Bangkok.
The city was founded in the 15th century and preserved some interesting historical and architectural monuments which makes it a popular centre of the excursion tourism. The tourists will see such old buildings as King of Nan's House and Old Wall. Among the most popular religious buildings are such temples as Wat Hua Khuang, Wat Nong Bua, Wat Suan Tan, Wat Hua Wiangtai and Wat Phra That Chae Haeng. Learn more about the city in the museums Wat Ming Mueang and Nan National Museum.
In the suburbs of Nan, the ecological tourists can take a river trip along the Nan river and explore the ecological system of Tham Pha Tup park. You can also go to such national parks as Doi Phu Kha, Pha Daeng and Lam Nam Nan.
Go shopping at Sin Sakul Thai, Suankaset Nan and Ran Pim Pha Thai shopping centres.
The extreme tourists have a chance to go rafting, kayaking, trekking and climbing in Doi Pha Phueng or Doi Samer Dao districts. If you have guts, you can try your hand at paragliding or parachuting.
The lovers of the event tourism have a chance to participate in many festivals and national holidays which take part in the province. Among the most interesting events are Wai Phrathat Festival, Namatsakan Phrathat Khao Noi Fair and Nan Boat Races.
Risasinee Spa invites the wellness tourists and offers relaxing massage or spa treatments. Clean air and a good ecological situation are favourable for the well-being and the health.
The best Thai dishes are served in U Dee Kin Dee, Khao Soi Ton Nam and Krua Huen Hom restaurants.
The nightlife is not developed here. There are some entertaining facilities such as Fifth Club and Channel X outside the city.