Narathiwat
Resort type:

Beach resort

Landscape:

Town, Mountains, Riverside, Tropical Forest, Bay Coast

What to do:

Culinary Tourism, Diving & Snorkelling, Natural Parks & Reserves, Boat Trips, Wellness Tourism, Historical & Architectural Monuments, Yachting & Sailing, Hiking, Surfing, Windsurfing & Kitesurfing, Shopping, SPA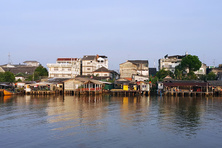 Narathiwat is a city and the capital of Narathiwat province situated on the territory of the Malay Peninsula. It has access to the Gulf of Siam in the South China Sea. The municipality is situated in the south of the country and borders Malaysia. It is 76 kilometres away from Yala and 90 kilometres away from Pattani.
The lovers of beach holidays can relax on the coast of the South China Sea. The most popular are Narathat Beach and Ao Manao Beach. The active tourists can go kiting, windsurfing, surfing, yachting and sailing. There is also everything you may need for sea fishing, diving and snorkelling in the coral reefs.
The unique nature of these places attracts the ecological tourists. They will enjoy their walk along the shore of the Bang Nara River, visit picturesque Ao Manao Forest Park and Muang Narathiwat Municipal Public Park. Exotic tours to Bang Lang National Park are arranged for the tourists. They can explore the land and water ecological system in the park.
The historical and architectural monuments attract those who prefer the excursion tourism. We recommend you pay attention to such sights as Clock Tower, Thaksin Ratchaniwet Palace or Provincial Central Mosque. You will find interesting expositions in a Craft Museum and Khun Lahan Folk Museum.
The foodies will enjoy exotic seafood delicacies. Such restaurants as Chuanfan, Lady, Mangkonthong offer a wide range of Thai and European dishes.
On site of the hotels Tanyong and Grand Garden, there are wellness centres offering spa treatments or massage.
Billion Shopping Center is the largest in the province. Do not go past, such stores as Rattanachai Gold and K B Mall.
At night you can go to clubs and bars in the hotels.