Naarden
Resort type:

City resort

Landscape:

Town, Lakes

What to do:

Cycling, Diving & Snorkelling, Natural Parks & Reserves, Wellness Tourism, Historical & Architectural Monuments, Gliding & Paragliding, Yachting & Sailing, Hiking, Surfing, Windsurfing & Kitesurfing, Shopping, SPA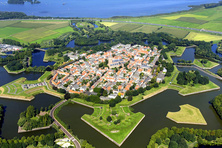 Naarden is a city and Naarden Community in North Holland Province situated on the coast of the Zuiderzee Lake in the central part of the Netherlands. The total area of the municipality which consists of the Medieval fortification complex and modern districts is 33 square kilometres. The city is 25 kilometres away from Amsterdam.
This old city with its many historical and architectural monuments attract thousands of the lovers of the excursion tourism. You can see Great Church, Pampus and Muiderslot. The tourists should not miss a chance to see such UNESCO sites in the province as Defence Line of Amsterdam, Beemster Polder and Canal Ring Area of Amsterdam. Anyone can go on a walking tour of Amsterdam.
The ecological tourists should definitely see the Wadden Sea which is under UNESCO protection. They can also visit Zuid Kennemerland National Park.
There is a wide choice of extreme activities here such as surfing, kiting, diving, yachting and snorkelling on the beaches in Zandvoort. Anyone can go on a biking tour in the suburbs of Amsterdam or ride a segway. You can also try your hand at hiking, paragliding and parachuting.
As Naarden is close to the capital city, the tourists can have a good shopping. The most visited malls in Amsterdam are Kalvertoren, Winkelcentrum Plein and Amsterdamse Poort.
The wellness tourists are welcomed in clinics and medical centres in Amsterdam. In Naarden, there is Fila Ki Spa & Beauty offering spa treatments and a massage.
Mixit and Oud Naarden restaurants offer traditional cuisine.
The nightlife is not developed in the city. You can dance and have a fun time in the clubs of Amsterdam, for example, Studio 80 or Paradiso.