Nassau
Resort type:

Beach resort

Landscape:

Island, Oceanfront, Tropical Forest

What to do:

Aquaparks, Diving & Snorkelling, Natural Parks & Reserves, Casinos, Boat Trips, Yachting & Sailing, Fishing & Spearfishing, Surfing, Windsurfing & Kitesurfing, Shopping, Nightlife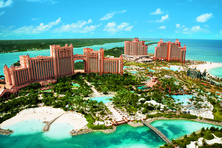 Nassau is the capital city of the Bahamas. The city is a cultural and a trading centre of the country situated on the New Providence Island. In Nassau, old Colonial style and modern buildings exist in harmony.
A tropical climate makes this place ideal for those who prefer beach and family holidays with children. There is a wide choice of activities for the active tourists as well. They can try their hand at diving, snorkelling, sports fishing and water skiing. You can also go on a sea cruise. On the coast, there are schools teaching the kids the basics of water sports. The short-term courses allow the tourists and their children learn how to play water polo or learn the basics of diving just in a week. In Nassau, there is an aqua park with a huge aquarium.
The lovers of shopping will want to make purchases in the local stores and souvenir shops. The foodies will try traditional island cuisine in the restaurants and eateries of Nassau.
Those who prefer the excursion tourism will want to see the main sights of the island. The tourists will be amazed by unique landscapes and beautiful nature in the national parks or a botanical garden in Nassau.
Bars and night clubs are an essential part of Nassau where you will spend a great time. You can also try your luck in the casino.