Naeba
Resort type:

Ski resort

Landscape:

Mountains

What to do:

Downhill Skiing, Wellness Tourism, Thermal & Mineral Springs, SPA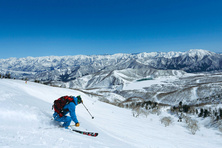 Naeba is one of the largest skiing resorts in Japan situated in Takenoko mountain. The resort belongs to Niigata Prefecture. It is situated not far from the city of Yuzawa. The resort is part of Yuzawa skiing area which gained popularity thanks to its long skiing season and ideal snow cover. The touristic season lasts here from November to May.
There are a lot of trails of different complexity so both the beginners and experienced skiers can come here and feel comfortable. It is a kids' friendly resort as it has an alpine skiing school for children, a playground, and hobby clubs for teenagers.
At the foot of the mountain, you will find hot springs. There are spa centers offering spa treatments. All the centers use mineral water from these springs.
The tourists can stay in the largest alpine skiing hotel in the world Naeba Prince 5*. There is a pool, spa, tennis courts, saunas, bars and restaurants on the site of the hotel.
The tourists can go for a walk and enjoy the picturesque places of the resort or typical Japanese landscapes.