Nebraska
Resort type:

Country resort

Landscape:

Mountains, Broadleaf Forest, Prairie, Plain, Riverside, Steppe, Coniferous Forest, Hills, Cliffs

What to do:

Culinary Tourism, Golf, Natural Parks & Reserves, Casinos, Wellness Tourism, Historical & Architectural Monuments, Gliding & Paragliding, Amusement Parks, Rafting & Kayaking, Fishing & Spearfishing, Surfing, Windsurfing & Kitesurfing, Thermal & Mineral Springs, Festivals & Carnivals, Nightlife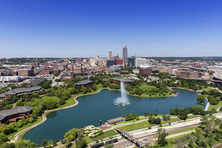 Nebraska is an American state with the total area of 200.520 square kilometres in the West North Central States of the USA. It borders South Dakota, Iowa, Missouri, Kansas, Wyoming, and Colorado. The capital city is Lincoln and the largest city is Omaha.
The state occupies the major part of the legendary Great Plains and it attracts to Nebraska the lovers of the ecological tourism. During the excursion tour, the tourists will see Chimney Rock, the Niobrara River, and Smith Falls State Park. They can also visit Sutherland Reservoir State Park, Nebraska National Forest and Pine Ridge National Recreation Area.
If it is the excursion tourism you are after, you will not be disappointed to come to Nebraska. The most interesting historical and architectural monuments are Homestead, Joslyn Castle, Neligh Mills. Do not miss a chance to visit historical parks such as Ash Hallow, Fort Hartsuff and Ashfall Fossil Beds. We also recommend you seeing Nebraska State Capitol and Governor's Mansion.
If you prefer city entertainments, you can go to Mueller Planetarium in Lincoln, visit such amusement parks as Chuck E Cheese's and Lost in Fun, try your luck in Chinook Winds Casino, play bowling in Delake Bowl or golf in Mahoney.
The wellness tourists choose Victoria Springs State Recreation Area which is known for its mineral springs. Clinics and medical centres in Omaha or Lincoln are also popular with the tourists.
There is a wide choice of activities for the extreme tourists who come to Nebraska. They can go trekking, paragliding, parachuting, hang-gliding, lake kiting and windsurfing, rowing, rafting, kayaking. The active tourists can also go fishing or hunting.
The event tourism is well-developed in the capital city. It annually holds Lincoln Arts Festival and Nebraska Folk & Roots Festival.
The foodies should definitely visit such restaurants in Omaha as Avoli Osteria, Diner and J Coco. At night, you will have a great time in X Equis and Flashbacks night clubs.