Nevada
Resort type:

Country resort

Landscape:

Mountains, Valley, Canyon, Broadleaf Forest, Lakes, Desert, Plain, Riverside, Tropical Forest, Coniferous Forest

What to do:

Culinary Tourism, Downhill Skiing, Mountain Trails, Natural Parks & Reserves, Casinos, Wellness Tourism, Historical & Architectural Monuments, Gliding & Paragliding, Fishing & Spearfishing, Snowboarding, Thermal & Mineral Springs, Festivals & Carnivals, Shopping, Nightlife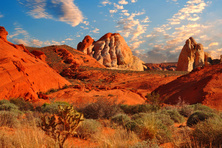 Nevada is an American state situated in the west of the country. It neighbours Arizona, California, Idaho, Utah and Oregon. The total area of the state is over 286 square kilometres. Carson City is the capital.
One of the most popular places in Nevada is Las Vegas, where one can find many entertainment centres, night clubs and casinos. The lovers of city entertainments also like to stay in Tahoe City and Reno.
The historical and architectural monuments of the state that you should definitely see are Washoe County Courthouse in Reno and Saint Mary In the Mountains Church in Virginia City. The thematic excursion tours to ghost towns such as Goldfield, Belmont and Delamar are organized for the tourists.
The ecological tourists will surely want to visit Great Basin National Park and Red Rock Canyon Conservation Area. Other popular touristic sites are the Tahoe Lake and the glacier on the Wheeler Peak.
The extreme tourists can go to such ski resorts as Diamond Peak or Mount Rose for skiing and snowboarding. The active tourists can go fishing on the Pyramid Lake, try their hand in paragliding, parachuting, climbing or navigating a plane.
Many celebrations, festivals, concerts, shows and exhibitions take place in Nevada which attract a lot of lovers of the event tourism. One of the best events is believed to be Burning Man Festival.
Clinics or medical centres in Las Vegas, Carson City and Henderson offer their services to the wellness tourists. If you want to improve your well-being, go to the thermal springs in David Walley's Resort in the city of Genoa.
The best shopping is in Reno and Vegas. Here you will find such malls as Grand Canal Shoppes, Galleria at Sunset, Plumgate Centre, Canyon Centre.
In the capital city of Nevada, the foodies will want to visit Duke's Steakhouse, Firkin and Fox, El Charro Avitia restaurants to enjoy their meals.