Baja California
Resort type:

Beach resort

Landscape:

Mountains, Broadleaf Forest, Seacoast, Oceanfront, Plain, Tropical Forest, Coniferous Forest, Hills

What to do:

Culinary Tourism, Golf, Diving & Snorkelling, Wellness Tourism, Historical & Architectural Monuments, Gliding & Paragliding, Sport Tourism, Surfing, Windsurfing & Kitesurfing, Festivals & Carnivals, Shopping, SPA, Nightlife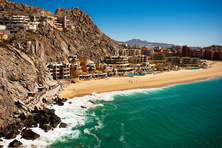 Baja California is a Mexican sovereign state situated in the north of the California Peninsula. It borders the United States of America. The state is washed by the waters of the Sea of Cortez or the Gulf of California on the east and by the Pacific Ocean on the west. The administrative centre of the state is the city of Mexicali.
The coasts are covered with golden sand and attract thousands of lovers of beach holidays. A city beach Rosarito is very popular among the youth as it offers a lot of entertainments. The Pacific coast of the Baja California is the main destination for the extreme tourists. They can go diving, kiting, paragliding, parachuting, ride a hydrocycle, and try water skiing. The fans of surfing and kayaking prefer the beaches in Tijuana. The tourists with children should choose warm waters of the Gulf of California in the regions Playa Hawai or Puertecitos.
One of the most popular celebrations and festivals in the state is the Fiestas del Sol which takes place every year in Mexicali. Parades, concerts, and contests during the celebration attract a lot of people.
The centre of a wellness-tourism in Baja California is the Rancho La Puerta Spa in Tecate. The tourists can eat organic farm products, have relaxing spa procedures and a massage.
If you prefer an excursion tourism you can see such historical and architectural monuments as Our lady of Guadalupe Cathedrale, Jai Alai Fronton Palace, and Calafia Bullring.
Tours to the Valle de los Cirios Natural Reserve are arranged for the ecological tourism.
Go shopping to the malls in Mexicali such as Plaza la Cachanilla, Gran Plaza Outlets, and Nuevo Mexicali.
The foodies can treat themselves to the Mexican dishes in the restaurants Chalet and Cenaduria Selecta.
The best nightclubs are Rocamar and Coko Bongo Mega.