Nis
Resort type:

City resort

Landscape:

Town, Mountains, Valley, Riverside, Hills

What to do:

Cycling, Natural Parks & Reserves, Horse Riding, Wellness Tourism, Historical & Architectural Monuments, Hiking, Fishing & Spearfishing, Thermal & Mineral Springs, SPA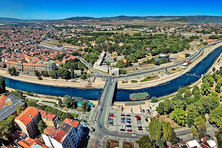 Nis is the oldest city on the Balkans attracting the tourists with its rich history and amazing architecture. Nis is a centre of Nis Municipality and the capital of Nisava District in Serbia.
Situated in the southern region in Nisava Valley on the shores of the Nisava River, Nis is the main destination for the ecological tourism. The active tourists can go on hiking or biking tours to explore the natural riches in the suburbs of the city. You can go boating, fishing, horseback riding or ride a four-wheeler.
If no journey is complete for you without excursions and sightseeing, you will fall in love with Nis. Its main archaeological monument is Mediana. The legend goes that in this place a Roman Emperor Constantine the Great was born. The buildings in Mediana date back to the 4th century and include a Roman villa, baths, two Christian churches which are believed to be the oldest on the peninsula. If you want to learn more about the history of this place, you should visit Archaeological Hall. It has a huge collection of artefacts, which were found during the excavations.
Do not miss a chance to visit Nis Fortress built in the 18th century, Stambol Gate, Bali-Begova Mosque where there is Gallery of Modern Art of Nis now.
The citizens of the city are proud of their baroque churches: Holy Trinity Cathedral and Catholic Church of Sacred Heart. The tourists will also see a unique 16th-century building, Church Hilandarski Metohija.
The wellness tourists can consider Nis as the place to spend their holidays because there is a world famous spa resort Niska Banja. Thermal springs and medicinal muds contain radon, which is good for the people suffering heart and rheumatologic diseases.