Noordwijk
Resort type:

Beach resort

Landscape:

Town, Seacoast

What to do:

Aquaparks, Cycling, Culinary Tourism, Diving & Snorkelling, Natural Parks & Reserves, Wellness Tourism, Historical & Architectural Monuments, Gliding & Paragliding, Yachting & Sailing, Hiking, Surfing, Windsurfing & Kitesurfing, Festivals & Carnivals, Shopping, SPA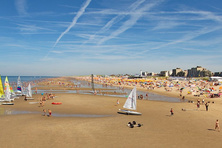 Noordwijk is a city and a commune in South Holland Province. It is situated along the North Sea coast in the east of the Netherlands. The city is 43 kilometres away from Amsterdam and 27 kilometres away from Hague. The total area of the city is 50 square kilometres.
Staying in Noordwijk, the ecological tourists will enjoy the marine landscapes, explore the ecological system of sandy dunes extending from the north to the south, walk in the pine woods. They can also visit the national parks in the neighbouring provinces, including Utrechste Heuvelrug National Park and Zuid-Kennemerland National Park.
In summer, the active tourists prefer to spend their time on the sandy coast totalling 13 kilometres in length. The coastal waters are rather cool all the time, but it does not stop the tourists from diving and snorkelling. The extreme tourists will have a chance to go windsurfing, parasailing, kiting, yachting or sailing. On the beaches, diving instructors offer their services. The tourists with children should not miss a chance to visit an aqua park Scheveningen and Duinrell Waterpark. Hiking and biking tours in the suburbs, paragliding, parachuting, horseback riding are also very popular among the tourists.
In Noordwijk, you will find such stores as Free Record and Intertoys. There are larger malls in Hague such as new Babylon, De Passage, Palace Promenade. Spend a great time and dance on the discos Champ or Grand. Enjoy the Dutch cuisine in Bij Raggers and Open Doors restaurants.
The wellness centres Azzurro and Kennemer Gasthius invite the wellness tourists to have toning or relaxing spa treatments.
The event tourism is developed in the city due to such local events as Noordwijk Painting Festival and Food Soul Festival.
For those who prefer the excursion tourism, excursion tours are arranged. The tourists can see the main historical or architectural monuments of the province as Van Nellefabriek and Mill Network at Kinderdijk-Elshout which are under UNESCO protection.