Noordwijkerhout
Resort type:

Beach resort

Landscape:

Seacoast, Lakes

What to do:

Culinary Tourism, Golf, Diving & Snorkelling, Natural Parks & Reserves, Wellness Tourism, Yachting & Sailing, Rafting & Kayaking, Surfing, Windsurfing & Kitesurfing, Festivals & Carnivals, Shopping, SPA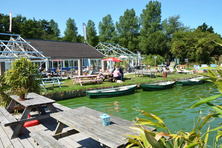 Noordwijkerhout is a municipality and a commune in South Holland Province, situated not far from the North Sea in the west of the Netherlands. It is 29 kilometres away from Hague and 40 kilometres away from Amsterdam. The total area of the city is about 24 square kilometres.
The suburbs of the city near the North Sea attract the lovers of beach holidays. The extreme tourists can go surfing, kiting, diving and yachting. The Eastern Dune's lake is a great escape for those who loves swimming and windsurfing. Master your golf skills in Wassenaarse Club de Golf Rozenstein and Kagerzoom Golf Club. Rafting tours are arranged in Zeebard Kajaktochten Haarlem.
If it is the excursion tourism you are after, you will have a chance to get acquainted with such local sights as the Ruins of Teylingen and Saint Jeroen's Church. Take a trip to Amsterdam to see its historical and architectural monuments. For example, Rembrandt House, Zuiderkerk and Royal Palace. You cannot miss a chance to see such UNESCO sites as Amsterdam Defence Line and Seventeenth-century canals of Amsterdam.
Amazing country landscapes, closeness to the sea and the local lakes attract to the city the ecological tourists. They can visit Zuid-Kennemerland National Park.
Those who prefer the event tourism can participate in an annual Coverband Festival.
The wellness tourists can take advantage of the services of wellness centres in Amsterdam. In Noordwijkerhout, you will find Azzurro Wellness offer a course of massage or spa treatments.
Go shopping at such malls as Tweewieler Center Noordwijkerhout and Intertoys Speelgoedwinkel.
The foodies will try typical Dutch dishes in Bi Raggers or Open Doors restaurants.