New Brunswick
Resort type:

Country resort

Landscape:

Mountains, Broadleaf Forest, Lakes, Oceanfront, Plain, Riverside, Mixed Forest, Coniferous Forest, Hills

What to do:

Aquaparks, Natural Parks & Reserves, Casinos, Historical & Architectural Monuments, Amusement Parks, Hiking, Fishing & Spearfishing, Shopping, Nightlife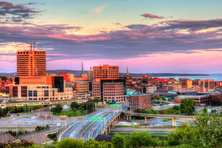 New Brunswick is a province situated on the east of Canada. The capital city is Fredericton. The largest cities of the province are Saint John and Moncton.
New Brunswick is situated on the coast of the Atlantic Ocean and borders such Canadian provinces as Quebec, Nova Scotia and an American state Maine. The Province is separated from the Prince Edward Island by the Northumberland Strait. There is a wonderful Confederation Bridge over the strait.
The northern part of New Brunswick is occupied by the Appalachian Mountains and in the south-eastern part, there are the lowlands. In the south, along the Bay of Fundy, there are the Caledonian Hills. They are partly occupied by the Fundy National Park. This park is the main destination for the ecological tourists.
IN the Province, there are many lakes and river the largest of which is the Saint John River. The largest lake is the Grand Lake and it has a lot of fish. Many tourists come here for fishing.
If it is the excursion tourism you are after, in New Brunswick you will see many interesting sights. In Edmundston, you can visit Du Petit-Salt Fort, Cathedral of the Immaculate Conception and Madavaski Historical Museum. The most interesting sights in Mirimachi are Marine hospital, Prairie Acadian Historical Village and Kouchibouguac National Park.
We recommend going to Fredericton for shopping. There you will find Regent Mall and Fredericton Boyce Farmers Market.
The foodies will enjoy their meals in Wolastoq Wharf, Ten Resto and The Terrace.
At night, such clubs as Hilltop, Twenty/20 Club and Copperhead Road clubs open their doors.