New Jersey
Resort type:

City resort

Landscape:

Mountains, Valley, Broadleaf Forest, Lakes, Oceanfront, Plain, Riverside, Coniferous Forest, Hills, Bay Coast

What to do:

Aquaparks, Culinary Tourism, Downhill Skiing, Diving & Snorkelling, Natural Parks & Reserves, Casinos, Horse Riding, Nudist Beaches, Wellness Tourism, Hunting, Historical & Architectural Monuments, Amusement Parks, Yachting & Sailing, Sport Tourism, Rafting & Kayaking, Fishing & Spearfishing, Surfing, Windsurfing & Kitesurfing, Snowboarding, Festivals & Carnivals, Nightlife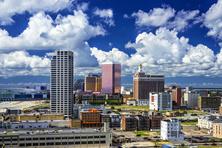 New Jersey is an American state with the total area of over 22.500 square kilometres situated in the northeast of the country. In the southwest, it has access to the Delaware Bay, in the east to the Atlantic Ocean. It neighbours Pennsylvania, New York and Delaware. The capital city is Trenton.
The ideal destination for the lovers of city entertainments is Atlantic City famous for its entertainment complexes, casinos and night clubs.
The centre of the education tourism is the city of Princeton because there is a legendary Princeton University.
If you come to New Jersey with children do not miss such amusement parks as Six Flags in Jackson, Morey's Piers in Wildwood and Clementon Park in Clementon.
Escape the city noise and visit the coastal regions of Ocean City. The active tourists and young people prefer to come to Jersey or Atlantic City. The beaches in New Jersey offer everything you may need for surfing, kiting, diving, snorkelling, sailing and yachting.
Clinics and medical centres offer their services to the wellness tourists.
The ecological tourists come to New Jersey to visit its recreation areas and reserves, including Pinelands National Reserve protected by UNESCO.
In Delaware Water Gap, one can go kayaking, rafting, horseback riding, hunting and fishing. Mountain Creek resort in Vernon and Campgaw Mountain in Mava invite the lovers of alpine skiing or snowboarding.
If it is the excursion tourism you are after, you can visit significant sites and see historical and architectural monuments. For example, Benjamin Franklin Bridge, Old Fort of Nassau and New Jersey Parliament Building.
The large cities of the state hold food fairs, shows, exhibitions, celebrations and festivals which make New Jersey a popular centre of the event tourism.