New Mexico
Resort type:

Country resort

Landscape:

Mountains, Desert, Plain, Riverside, Steppe, Cliffs

What to do:

Downhill Skiing, Natural Parks & Reserves, Horse Riding, Hiking, Caves, Nightlife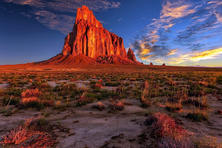 New Mexico is a state in the southwest of the USA. The capital city is Santa Fe. The largest cities are Albuquerque, Las Cruces, Roswell, Farmington and Rio Rancho.
New Mexico borders such American states as Colorado, Oklahoma, Texas, Mexican states Chihuahua and Sonora.
The landscape in the state is quite diverse. The tourists will see lava fields and wide deserts which give way to snowy caps of the mountains. In the centre of the state, there are the mountain ranges in the Rocky Mountains such as San Juan or Sangre de Cristo. In the west is Colorado Plateau and in the east is Llano Estacado plateau and the Great Plains. The tourists will also see such large rivers in the region as the Rio Grande River and its tributary Pecos. Thick woods are typical for the northern parts of New Mexico and in the south, you will see desert and prairie.
New Mexico is the main destination for the ecological tourists. On the territory of the state, many natural sights have been preserved. For example, Chihuahuan Desert, Lechuguilla Cave and a gypsum desert White Sands. The tourists can also visit Carlsbad Caverns National Park.
If it is the excursion tourism you are after, you will not be disappointed. During an excursion tour, you will visit the Palace of Governors and Chapel Capilla de Nuestra Secor.
110 kilometres away from Santa Fe is a popular ski resort Taos. The active tourists prefer Taos Box Area where they can go rafting, hiking and horseback riding enjoying the beauty of this place.
In large cities, you will find malls and luxurious boutiques.
The best restaurant in New Mexico, Geronimo Raaga, opens its doors for everyone. If you do not want to stay in your hotel room at night, you should stay in Santa Fe and have a great time in the best nightclub Shadeh.