New Hampshire
Resort type:

Country resort

Landscape:

Mountains, Broadleaf Forest, Lakes, Oceanfront, Plain, Riverside, Coniferous Forest, Cliffs

What to do:

Culinary Tourism, Natural Parks & Reserves, Historical & Architectural Monuments, Hiking, Rafting & Kayaking, Fishing & Spearfishing, Snowboarding, Nightlife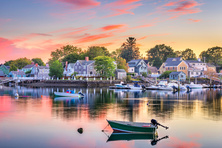 New Hampshire is a small state in New England in the northeast of the USA. The capital city is Concord. The largest city in the state is Manchester. New Hampshire borders such American states as Maine, Massachusetts, Vermont and a Canadian Province Quebec. It is washed by the waters of the Atlantic Ocean.
In the north of the state, there are the White Mountains, in the centre is the New England Upland and in the southeast is the seashore lowland. The largest rivers in New Hampshire are the Connecticut river and the Merrimack river. The Winnipesaukee lake is recognized to be the largest lake in the state.
The lovers of beach holidays go to Hampton Beach. In winter, the tourists go skiing and snowboarding on the Sunapee Mount. In summer, New Hampshire attracts the ecological tourists. On the river or lake shores, there are camping's and touristic centres.
During your journey to New Hampshire, you will get acquainted with the history of the state. In Portsmouth, you will see 200-years old architecture. A typical example of the city architecture in Portsmouth is Warner House and the Residence of John Langdon.
In Concord, you should see New Hampshire State House and Eagle Hotel where many American presidents stayed.
New Hampshire attracts the lovers of gastro and wine tours. There are over 20 vineyards here where you can taste the wine. The most famous vineyards in New Hampshire are Moonlight Meadery, LaBelle Winery and Fulchino. The lovers of cheese cannot go past the Brookford farm to try famous Quark cheese.
You will find large malls or boutiques in Concorde and Manchester.
The dishes inspired by the unique cuisine of New England are served in such restaurants as Inn at Pleasant Lake, Vintage Baking Co, Morano Gelato.
The popular night clubs Central Ale House and Murphy's Taproom can be found in Manchester.