Newfoundland and Labrador
Resort type:

Country resort

Landscape:

Mountains, Broadleaf Forest, Lakes, Riverside, Coniferous Forest, Hills, Cliffs, Strait, Tundra

What to do:

Golf, Natural Parks & Reserves, Hunting, Hiking, Caves, Fishing & Spearfishing, Nightlife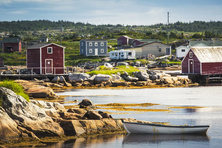 Newfoundland and Labrador is a Canadian province. The capital city is Saint Johns.
Newfoundland and Labrador occupies the territory of the Newfoundland Island and the north-eastern part of the Labrador Peninsula. It borders Quebec province. Belle-Ile Strait separates the province from the Labrador Island and Cabot Strait separates it from Nova Scotia. To the south from Newfoundland are the Saint-Pierre Island and Miquelon.
The Appalachian mountain system extends from Newfoundland and the territory of Labrador occupies the Laurentian upland. The largest rivers in the region are the Churchill River, the Grey River and the Salmon River.
Newfoundland and Labrador attract the ecological tourists. They can visit Mealy Mountains National Park Reserve. In the Gulf of Saint Lawrence, the tourists will watch the dolphins, sea birds and mammals. There is an interesting excursion to the Corner Brook caves.
The lovers of the excursion tourism will see such sights in this Canadian Province as John William Roberts House, Commissariat House and Masjid-an-Noor Mosque.
The active tourists can go fishing and duck hunting in Point in May or play golf in such clubs as Blomidon, Gander, Bally Haly Golf & Curling Club.
The legend goes that in the village Red Bay, there are hidden pirate treasures, so you can try your like and maybe find some.
In Saint Johns, on the Heritage Shop Duckworth Street, you can buy some souvenirs.
In the Province, you will find restaurants, where you enjoy your meals and an interesting performance. For example, All Around the Circle and Queen Street.
If you want to have some night entertainments, you should stay in Saint Johns, where you will find Karaoke Kops, ONYX and Flo Lounge clubs.