Ohio
Resort type:

City resort

Landscape:

Swamp, Mountains, Broadleaf Forest, Lakes, Plain, Riverside, Coniferous Forest, Hills

What to do:

Cycling, Golf, Diving & Snorkelling, Casinos, Horse Riding, Boat Trips, Historical & Architectural Monuments, Yachting & Sailing, Hiking, Rafting & Kayaking, Safari, Nightlife, Zoos, Tennis, Oceanariums & Dolphinariums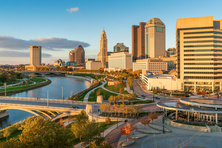 Ohio is an American state in the east of the Midwestern United States. The largest Mississippi river tributary and the Ohio River flow through the region. The capital city is Columbus. The largest cities are Toledo, Cleveland, Landen and Cincinnati. One of the Great Lakes, the Erie Lake is situated in Ohio.
The lovers of the excursion tourism and outside activities come to Ohio. In this state, many historical and architectural monuments of different periods have been preserved. The major sight of Columbus is Ohio Statehouse. In Cincinnati, walk in the Fountain Square. The most unusual sight in Ohio is a Y-shaped bridge in a small city Zanesville.
The active tourists can go trekking or hiking, horseback riding, biking, jeep safari and ecological tourism. If you want to feel a rush of adrenalin, try parachuting or hang-gliding. Those who like to combine entertainment and sports should go to adventure parks or a zip line. In Columbus, for example, there is ZipZone Canopy.
The lovers of water activities can choose from a wide range of activities such as rafting, kayaking, diving, sailing and sea cruises. Beaver Kayak Company will arrange a kayaking tour and in Captain Diving Adventure you can rent diving equipment.
Ohio is a true paradise for kids. In Sandusky, there is the most famous Cedar Point Amusement Park. Escape rooms are also very popular here. Anyone can play golf, tennis, bowling and try their luck in gambling.
In large cities, the tourists will find zoos and aquariums. The largest is Greater Cleveland Aquarium in Cleveland.
Ohio is nationally known for its sweet Cincinnati Chili. You can try it with spaghetti or beans in Lindey's restaurant in the capital city.
If it is night entertainments you are after, then go to Barrio in Tremont nightclub in Cleveland.