Okinawa Island
Resort type:

Beach resort

Landscape:

Mountains, Island, Oceanfront, Tropical Forest, Hills

What to do:

Cycling, Culinary Tourism, Diving & Snorkelling, Boat Trips, Historical & Architectural Monuments, Yachting & Sailing, Hiking, Caves, Fishing & Spearfishing, Surfing, Windsurfing & Kitesurfing, Shopping, Zoos, Oceanariums & Dolphinariums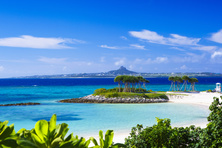 The Okinawa Island is the largest on the Ryukyu Archipelago in Japan. It belongs to Okinawa Prefecture. The administrative centre and the largest city is Naha. The most popular touristic centres are Okinawa, Yomitan, Chatan, Onna and Ginowan.
The Okinawa Island is a popular destination for those who prefer the beach holidays. Clean waters of the Pacific Ocean, coral reefs and rich underwater world attract the fans of diving. The best diving sites are the waters of the Kerama Islands which are 30 kilometres away from Naha. The beaches of Chatan are fine for snorkelling and night diving. There is a wide range of other activities. For example, surfing, kitesurfing and windsurfing, sea cruises to the islands of the Archipelago, oceanic fishing, sailing, kayaking and yachting. If you want to feel a rush of adrenaline, you can try your hand at parasailing. Blue Water Explorations arrange sea cruises and fishing tours. In Fathoms Diving Shop, you can rent diving equipment.
In the capital city, the architectural monuments of the Ryukyu epoch have been preserved. Many of them have been inscribed on the UNESCO World Heritage List. Do not miss a chance to see Shuri Castle.
Southeast Botanical Gardens have a collection of exotic Asian plants. On the territory of the park, there are walking and biking trails. In Okinawa Kodomonokuni, you can see wild animals.
In Plaza House Shopping Center, the tourists will find brand clothes and accessories. The freshest food is sold on the Chubunouren Market. The tours to Okinawa Tea Factory are arranged for the tourists.
Som Chai restaurant serves traditional Thai dishes. In Sam's by the Sea Awaseten, they prepare the dishes over the open fire. The Indian cuisine is served in Krishna restaurant. Sushi Zen offers over 1.000 types of sushi.