Oklahoma
Resort type:

City resort

Landscape:

Swamp, Mountains, Broadleaf Forest, Lakes, Prairie, Plain, Riverside, Steppe, Coniferous Forest, Hills, Cliffs

What to do:

Mountaineering, Natural Parks & Reserves, Historical & Architectural Monuments, Hiking, Festivals & Carnivals, Shopping, Nightlife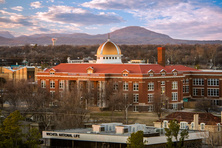 Oklahoma is a state situated in the central part of the United States of America. It borders Texas, Kansas, Colorado, Arkansas, Missouri and New Mexico. The capital city of Oklahoma is Oklahoma City. The largest cities are Tulsa, Norman and Lawton.
The relief of Oklahoma is diverse from the swampy lowlands in the southeast to the plains in the northwest. Part of the state is situated on the Ozark Plateau. In the southwest of Oklahoma, there is the Wichita Mountain and not far from it, you will find a national park popular with the climbers and hikers. This region has over 200 lakes and 500 rivers.
If it is the excursion tourism you are after, then go to Oklahoma City. One of the most beautiful places there is Myriad Botanical Garden and its main attraction is Crystal Bridge.
The tourists who come here like to go on boat trips along the Hefner Lake, the Overholser Lake and Stanley Draper Lake. Every year, Oklahoma City holds different festivals, fairs and other cultural events attracting many tourists.
You will have a great shopping experience at Plaza District, Quail Springs Mall and Penn Square Mall. Among many restaurants, the best are Spencer's Smokehouse & BBQ, Sinbad Mediterranean Cuisine and Basement Modern Diner. If you prefer night entertainments, go to Scottish Rite temple, Pinots palette and Edna's Lunchboxes nightclubs.
The tourists who want to learn more about the history of the region, should visit the Indian city Anadarko. The locals carefully preserve their culture and traditions. The Museum of Anadarko stores a huge collection of the Indian's household items.
Many tourists go to the city of Guthrie as it is known for its magnificent Victorian architecture. The largest building in the city is Scottish Rite Temple in the Neoclassical style.