Oregon
Resort type:

Country resort

Landscape:

Mountains, Valley, Broadleaf Forest, Lakes, Oceanfront, Plain, Riverside, Coniferous Forest, Volcanoes

What to do:

Mountaineering, Culinary Tourism, Mountain Trails, Diving & Snorkelling, Natural Parks & Reserves, Nudist Beaches, Wellness Tourism, Historical & Architectural Monuments, Gliding & Paragliding, Hiking, Rafting & Kayaking, Surfing, Windsurfing & Kitesurfing, Thermal & Mineral Springs, Festivals & Carnivals, Shopping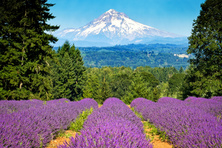 Oregon is an American state with the total area of over 255.000 square kilometres situated in the northwest of the country. It borders Idaho, California, Washington and Nevada. On the west, it has access to the Pacific Ocean. The capital city is Salem.
Due to its natural diversity Oregon is a popular destination for the ecological tourism. The tourists can see the crater lake of an extinct volcano Mazama and enjoy Rogue river valley in the Rogue River Valley State Park. If you come to Oregon, do not miss a chance to go on a tour to Marys Peak Scenic Botanical Area and Oregon Dunes National Recreation Area. We also recommend seeing to John Day Fossil Beds National Monument.
The extreme tourists will be impressed by hiking in the Cascade Range and Rogue River rafting tours. They can also try their hand at paragliding, hang-gliding climbing.
Those who prefer the beach holidays should go to the Pacific coast where they can explore the underwater world. The rocks of the Cannon Beach in Oregon attract the fans of snorkelling and diving. The beach in a small city Neskowin is perfect for a romantic date. On the coast of Brookings, you can go surfing, kiting and windsurfing.
If it is the excursion tourism you are after, then you should go on a trip to Salem or Portland to see their historical and architectural monuments. You will want to visit Seven Gables House, Salem Witch Village or walk along the Chestnut Street. If you stay in Portland, do not go past the Pittock Mansion and Saint John's Bridge.
The most interesting local events in Oregon are Oregon Shakespeare Festival and Bach Festival.
Thermal springs Crystal Crane attract the wellness tourists.
You will have a great shopping experience in such Portland's malls as Washington Square and Pioneer Place.
In Wild Pear, Rafns and World of Mouth you will try the best American dishes.