Orlando, Florida
Resort type:

City resort

Landscape:

Town, Lakes, Tropical Forest

What to do:

Natural Parks & Reserves, Amusement Parks, Safari, Shopping, Nightlife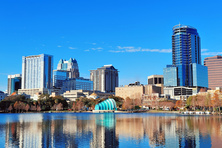 Orlando is a resort in the centre of Florida, the United States of America.
Many families with kids come to Orlando to visit its numerous thematic amusement parks.
The ecological tourists also like to stay in Orlando because there are over 80 parks, botanical gardens and a lot of lakes. The tourists will want to go to palm groves, bamboo woods, explore the collection of camellias, roses and other flowers. They will watch the butterflies, dolphins and tropical birds. The tourists can also go on a mini safari.
On the main touristic street International Drive, you will find malls, entertaining centres, luxurious restaurants and a modern Congress Centre. The malls in Orlando will meet your highest demands.
Those who prefer educational programs can visit museums, art galleries, and Orlando Science Centre.
You will surely enjoy the dishes inspired by the best international cuisines in elegant restaurants and small but cosy eateries.
Bars and nightclubs offer spectacular entertaining programs.