Ottawa
Resort type:

City resort

Landscape:

Town, Riverside, Mixed Forest

What to do:

Culinary Tourism, Wellness Tourism, Historical & Architectural Monuments, Gliding & Paragliding, Amusement Parks, Yachting & Sailing, Rafting & Kayaking, Surfing, Windsurfing & Kitesurfing, Festivals & Carnivals, Shopping, SPA, Nightlife, Religious Pilgrimage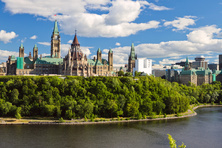 Ottawa is the fourth largest Canadian city and the capital of the country. The city is situated in the southeast of the country on the territory of Ontario Province. The total area of the city is about 2.800 square kilometres. It is 450 kilometres away from Toronto.
For the lovers of city entertainments, in Ottawa there are many nightclubs, Du Lac Leamy casino, Pirate Adventures and Midway Family Fun Park.
Those who prefer the excursion tourism will want to get acquainted with historical and architectural monuments. For example, Rideau Hall, Supreme Court of Canada, Royal Canadian Mint and Parliament Hill. The pilgrims should definitely visit Saint Charbel Maronite Church, Saint Elias Cathedral and Saint Xenia of Petersburg Church.
In summer, the lovers of beach holidays can relax on Britannia Beach on the Ottawa river or on the Mooney's Bay Beach on the shore of the Rideau River. City beaches offer all the conditions for kiting, windsurfing and sailing.
The extreme tourists can try their hand at paragliding, rafting, kayaking, parachuting and hang-gliding. They can also take lessons to learn airplane navigating.
National celebrations and annual festivals attract many tourists to the capital city of Canada. The most popular events are Ottawa International Busker Festival and Winterlude. The foodies should not miss a chance to visit Wine and Food Festival.
You will have a great shopping experience at Saint Laurent Centre, Bayshore Shopping Centre and Lincoln Fields Shopping Centre.
Many tourists come to Ottawa's medical centres and clinics to improve their health. The wellness tourists can have spa treatments in wellness centres Holtz Spa and Minerva Spa.
The ecological tourists will want to go on a tour to Papineau-Labelle Wildlife Reserve.
Atelier and Aroma Meze restaurants serve the dishes inspired by the Canadian or International cuisines. The best nightclubs in Ottawa are Mansion, Babylon, Mardi Gras and Zaphod Beeblebrox.