Pantanal
Resort type:

Country resort

Landscape:

Swamp, Lakes, Riverside, Tropical Forest, Hills

What to do:

Natural Parks & Reserves, Horse Riding, Hunting, Caves, Fishing & Spearfishing, Safari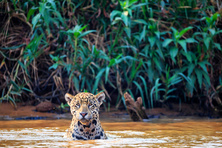 Pantanal is a unique reserve, which includes a vast densely forested wetland. The main part of the reserve occupies the territory of Brazil, but some parts of it lie in Paraguay and Bolivia. The Paraguay River flows through Pantanal. In 2000, Pantanal was inscribed on the UNESCO World Heritage List.
In Pantanal, you can see endangered animals, reptiles, birds and plants. The natural diversity of these places attracts the ecological tourists. During their journey, they will see picturesque waterfalls, rivers and other natural sights. In Pantanal, there is the second largest in Brazil Apoe-Yari cave, Martin Falls, Lagoa Azule. One of the most popular places in the reserve is the City of Stone. Under the influence of natural factors, the rocks now remind of some ancient ruins.
The best time for visiting Pantanal is a period from May to October when the precipitation is very rare. The best means of transport here is a horse or a jeep. Safari, fishing, crocodile hunting, walking and horseback riding tours, boat tours are organized for the tourists.
The tourists can stay in the northern part of the reserve in small lodge hotels or campings.