Paramaribo
Resort type:

Beach resort

Landscape:

Town, Oceanfront, Riverside, Tropical Forest

What to do:

Natural Parks & Reserves, Boat Trips, Historical & Architectural Monuments, Hiking, Shopping, Nightlife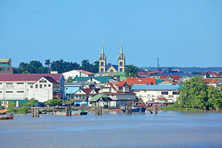 Paramaribo is the capital, the largest city and the main port of Suriname. The Historic Center of Paramaribo is inscribed in the UNESCO World Heritage List. The city is situated on the Suriname River 20 kilometres away from where it flows into the Atlantic Ocean.
The lovers of beach holidays prefer Matapica and White Beach.
If it is the excursion tourism you are after, then you can go on an excursion trip around the city and visit Fort New Amsterdam, the National Assembly of Suriname, take a walk along Paramaribo Waterfront.
The most important holy places and cathedrals in Paramaribo are Saint Peter, Paul Cathedral, Gods Bazuin Church, Keizerstraat Mosque, Neveh Shalom Synagogue.
If you want to learn more about the city, you should definitely visit Suriname Museum and S.A.B. Museum.
The ecological tourists will surely want to go to Matapica National Park and walk along the shores of the Commewijne River.
On the shore of the Suriname river, there is Paramaribo Central market where you can buy different things.
You will enjoy your meals in Alegria and Palm Palace restaurants.
At night, Asia de Su nightclub opens its doors.