Passikudah
Resort type:

Beach resort

Landscape:

Oceanfront, Tropical Forest

What to do:

Cycling, Culinary Tourism, Diving & Snorkelling, Carting & ATVs, Gliding & Paragliding, Yachting & Sailing, Hiking, Fishing & Spearfishing, Surfing, Windsurfing & Kitesurfing, SPA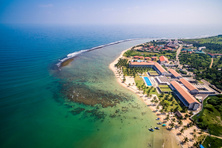 Passikudah is a resort on the east of Sri Lanka which is gaining more popularity these days. It is situated not far from such towns as Kalkudah and Trincomalee. The administrative centre of the island is Colombo, which is 300 kilometres away from Passikudah.
The sandy shallow Passikudah Beach is attractive for the families with children. This place is perfect for people who cannot swim well. Snorkelling is the most popular activity in Passikudah. On the resort, there is everything you may need for diving, sports fishing, yachting, windsurfing, kitesurfing and sailing. The active tourists can also go water skiing and scootering.
If you want to get a rush of adrenaline, then you can try your hand at parasailing and hang-gliding or rode a four-wheeler.
The amazing nature of Passikudah invites for walking or biking.
The tourists prefer to stay in Amaya Beach 4* hotel. There is SPA Cenvaree centreer and 2 large pools on site. There are the services of a babysitter. In Camp Safari, you can leave kids aged 4 to 9. Teenagers will have a fun time in E-Zone. The hotel arranges a transfer to the neighbouring resorts Kalkudah and Trincomalee.
The foodies will try traditional Asian dishes in Elements restaurant.