Easter Island
Resort type:

Country resort

Landscape:

Cove, Mountains, Lakes, Island, Oceanfront, Tropical Forest, Volcanoes, Cliffs

What to do:

Diving & Snorkelling, Ancient Monuments of Civilization, Horse Riding, Historical & Architectural Monuments, Hiking, Caves, Surfing, Windsurfing & Kitesurfing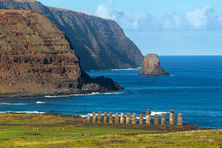 Easter Island is an island in the southern part of the Pacific Ocean in the territory of Chile. The island is 3.514 kilometres away from continental Chile and 2.075 kilometres away from Pitcairn island. The only city here is Hanga Roa.
Despite its small size, Easter Island contains a lot of sights both natural and human-made. Since 1995 its entire territory has been inscribed on the UNESCO World Heritage List.
The lovers of the excursion tourism are attracted, first of all, by the Moai statues which are scattered all over the island. Among the main natural sights are Rano Raraku Volcano and Rano Kau Volcano. The tourists can climb the top of an extinct volcano and go down to its crater. Some other places which are of a great interest are lava fields, unique volcanic lakes, cliffs and caves which offer an amazing view over the sea.
There are two sandy beaches on Easter Island. The active tourists can go diving, snorkelling or surfing. The tourists who come to Easter Island like hiking and horseback riding all over the territory of the island.