Piaui
Resort type:

Beach resort

Landscape:

Oceanfront, Riverside, Savanna, Tropical Forest

What to do:

Natural Parks & Reserves, Historical & Architectural Monuments, Yachting & Sailing, Fishing & Spearfishing, Surfing, Windsurfing & Kitesurfing, Nightlife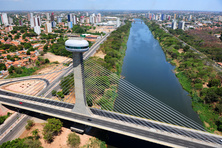 Piaui is a state in the northeast of Brazil. It borders such other Brazilian states as Maranhao, Tocantins, Bahia, Ceara and Pernambuco. The state is washed by the waters of the Atlantic Ocean. The capital city is Teresina.
The Atlantic coast attracts the lovers of the beach holidays. The active tourists can go surfing, windsurfing, yachting or ride a motor boat. The tourists can also go fishing on the Parnaiba River.
In Teresina, there is Piaui Museum. Its exposition will tell you about the history of the region. During an excursion tour, you will visit the Cathedral of Nossa Senhora do Amparo, Palace of Karnak and Teresina Zoo.
In the south of the state, you will find Serra-da-Kapivara National Park, which is inscribed in the UNESCO World Heritage List. You will see picturesque canyons covered with bushes and cave art.
In Artesanato craft centre and on Troca Troca market, you can buy souvenirs.
The best restaurants in the state are Coco Bambu, Grand Cru and Cabana del Primo Teresina.
If it is night entertainments you are after, then you will have a great time in such nightclubs as Pink Elephant, Tempero da Iracema and Bendito Boteco & Cervejaria.