Pigadia
Resort type:

Ski resort

Landscape:

Mountains, Broadleaf Forest, Coniferous Forest

What to do:

Mountaineering, Cycling, Downhill Skiing, Horse Riding, Wellness Tourism, Historical & Architectural Monuments, Thermal & Mineral Springs, SPA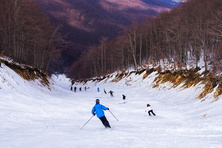 Pigadia is a Greek ski resort situated in the western part of the Vermio Mountains. It is situated 110 kilometres away from Thessaloniki and 18 kilometres away from Naoussa.
The alpine skiing lovers come to Pigadia. There are 7 trails of various lengths and difficulty. The shortest trail is 200 meters and the longest is 11 kilometres. The guests of the resort can go cross-skiing, snowboarding, sledding, ride snowmobiles. The slopes of the mountains are ideal for climbing and hang-gliding. The skiing season in Pigadia lasts from the beginning of December to the end of April. The required level of the snow is controlled with the artificial snow making system. When the skiing season is over, the tourists can try mountain biking, trekking, hiking and horseback riding.
In Pigadia, you will find training centres and rental centres. The kids will have a fun time on the playing grounds. The teenagers can play football.
Pigadia attracts the wellness tourists because there are 3 mineral sources situated 1.430 meters above the sea. Five more mineral sources are situated 1.800 meters above the sea. Mineral water is used for preventing gastrointestinal diseases and improving metabolism. In the local spa centres, you will be offered mineral baths. This procedure helps to fight the stress and nervous disorders. The hotels have gyms, hot tubs, Turkish baths, massage on site.
There are shopping tours to Naoussa. You will find the monuments of ancient architecture in Thessaloniki.
Do not miss a chance to try an egg-lemon soup Avgolemono in one of the most popular restaurants Driades.