Polonnaruwa
Resort type:

Country resort

Landscape:

Town, Tropical Forest

What to do:

Culinary Tourism, Carting & ATVs, Historical & Architectural Monuments, Hiking, Shopping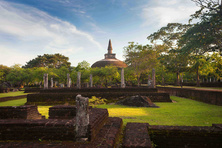 Polonnaruwa is a city in the North Central Province in Sri Lanka. It is 214 kilometres away from Colombo. Since 1982 it is acknowledged world cultural heritage under UNESCO protection.
Polonnaruwa is an ideal place for the excursion tourism. Before you start visiting historical and architectural monuments, go to Archaeological Museum where you will find the ancient artefacts found on the territory of the city. There are a lot of palaces, temples and other buildings in the city. For example, King's Council Chamber. The king's throne is still there and on the columns of the Chamber, you can read the names of the rulers of those times. The tourists can also visit Vatadage Temple, which houses Buddha's tooth.
A hallmark suburban sight is Gal Vihara Buddhist temple. It was carved in the rock in the 12th century. Its facade is decorated with 4 giant Buddha statues. During an excursion tour, you will also see Lankatilaka Vihara ancient temple with a 13-meter Buddha statue.
In the parks of the city and its suburbs, there are trekking or hiking routes. The active tourists can go hiking, biking, ride four-wheelers.
The lovers of shopping should go to Sewagama Super Center mall. Original souvenirs are sold in Galle City Stores.
The foodies should not miss a chance to try String Hoppers. It is parboiled rice noodles. You can try this dish in Jaga Food. Maha Kithula serves Asian dishes. Spicy Indian dishes are offered in Priyamali Gedara. You will find the best nightclub in Deer Park Hotel.