Poros
Resort type:

Beach resort

Landscape:

Mountains, Island, Coniferous Forest, Hills, Bay Coast, Cliffs, Flora of the Mediterranean

What to do:

Cycling, Diving & Snorkelling, Ancient Monuments of Civilization, Horse Riding, Boat Trips, Gliding & Paragliding, Yachting & Sailing, Hiking, Surfing, Windsurfing & Kitesurfing, Shopping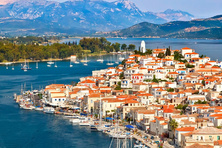 Poros is a small Greek island in the Saronic Gulf. It is situated on the coast of Peloponnesus. It is separated from Argolis by a narrow bay. A small canal divides the island into 2 parts: Sferia with the capital city Poros and Kalavria.
The city is a popular destination for the lovers of beach holidays. The best beaches are Neorion and the coast of Askeli village. The beaches have good conditions for water activities such as surfing and windsurfing, diving or snorkelling, sailing and kayaking. Greek Sails Yacht Charters organize interesting sea cruises. The surfers prefer to gather on the Poros Beach.
A natural sight of the resort is the Lemon Tree Forest where there are hiking, biking and horseback riding paths. A popular entertainment is a motocross. One can rent a motor bicycle and equipment in Moto Fotis. The tourists can ride four-wheelers or mountain bikes in Devil's Bridge, an area untouched by the civilization.
If you want to get a rush of adrenaline, try your hand at hang-gliding.
On the territory of Poros, the monuments of ancient civilizations are still preserved. In the capital downtown, the tourists will see the ruins of an ancient Temple of Poseidon.
In the city, you will find stores, bars and restaurants. In Ergani Workshop, you can buy traditional souvenirs which will remind you of your time spent in Poros.