Portillo
Resort type:

Ski resort

Landscape:

Town, Lakes

What to do:

Downhill Skiing, Mountain Trails, Hiking, Fishing & Spearfishing, Snowboarding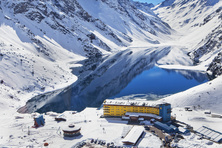 Portillo is a Chilean ski resort in the Andes. It is 7 kilometres away from Los Andes and 160 kilometres away from Santiago de Chile. The resort is situated on the coast of the Incas Lake at the food of the Aconcagua Mountain which is the highest peak in the Americas.
The lovers of winter outdoor activities come to Portillo. The hottest season lasts from June to October. The tourists can go skiing, snowboarding, skating and heliskiiing. The professional in alpine skiing can try to conquer Roca de Jack 'black trail'. The trails for beginners are right in front of the hotel Portillo 4*. The tourists can rent all the necessary equipment. There is a ski school for kids and beginners.
In total, there are 20 trails and 12 chairlifts, the two of which, Va and Vient, are located in the most dangerous places. The longest trail is 2.456 meters. The maximum height is 3.348 meters.
A set of service apres-ski includes a visit to the cinema, meals in a restaurant, massage and a gym. The hotel has a sauna and an indoor pool on site. The water in the pool is warmed 24 hours a day. At night the disco and the bar open their doors. There is a playroom for the kids.
Do not miss a chance to go fishing on the Incas Lake or climbing in the Andes. The lovers of shopping should go to Los Andes.