Porto Alegre
Resort type:

City resort

Landscape:

Town, Lagoon, Riverside, Steppe, Tropical Forest

What to do:

Cycling, Natural Parks & Reserves, Horse Riding, Historical & Architectural Monuments, Hiking, Safari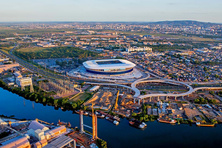 Porto Alegre is one of the most popular destinations in Brazil. This is the dream city for many ecological tourists and those, who likes the excursion tourism. Porto Alegre is the capital city of Rio Grande do Sul state and the centre of Municipality of Porto Alegre.
The city is situated on the shores of the River Rio Guaiba at the crossroads of Pampas and Atlantic Forest regions. That is why this place attracts the lovers of nature. The tourists will enjoy the views of thick woods and amazing waterfalls in the suburbs of Porto Alegre. This is one of the greenest cities in the country. It is no wonder because there are a lot of parks here. The most popular is Farroupihla Park, which offers good conditions for sports and entertainments. Do not miss a chance to visit Botanical Garden of Porto Alegre, see a lot of exotic plants.
The active tourists will have a great choice of activities. For example, biking, boating and horseback riding. One can also go on a safari to watch the animals in their natural habitat. Anyone can try and learn the basics of Brazilian martial art Capoeira.
You cannot imagine holidays in Porto Alegre without getting acquainted with its legendary architecture of the Colonial period. A hallmark of the city is a magnificent Piratini Palace, the official residence of the state. It was built in a Neoclassical style. Other interesting buildings are bright Porto Alegre City Hall and Porto Alegre Catholic Cathedral.
If you want to learn more about the country and the city, visit such museums as Rio Grande do Sul Museum of Arts, Julio de Castilhos Museum, Joaquim Jose Felizardo Museum.